About our company
Welcome to The Career Makers
The Career Makers (TCM) was founded in the year 1998 and it has been representing premier universities of China since 2004. The Career Makers (TCM) takes care to ensure that all the universities are listed in the WHO's world directory of medical schools and fulfills all mandatory criteria of the SCREENING TEST REGULATIONS ACT 2002. The Career Makers (TCM) has its offices across India and it does not entertain any student through any Business Associates.
Global Partnership
Our Company TCM has global partnership with the Concern organization to give best educational service to our customers
Powered by Knowledge
Our Entire Expert Team has education and a complete control on Service by using that knowledge. Educated Team can easily handle the things. Knowledge is the strongest tool providing quality service to the Customers
Customer Service
You love the way in which they view you. Employees are polite, competent and will respond quickly. We are there to work for you and you take care of them in exchange by doing business with them.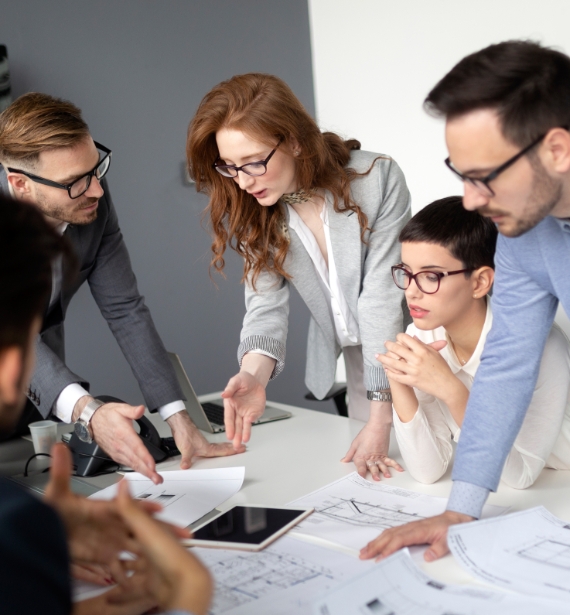 About our company
Welcome to The Career Makers
Team of enthusiastic young and dynamic professionals from various streams. Every member of the team is highly qualified professional working in his own field and capable of managing the events of admissions at International Levels. They are also capable of thinking ahead and giving shapes to the futuristic careers of students.
Becoming doctor with MBBS degree in India is a most boastful career in India. To study MBBS, since long, students sought to Pursue MBBS in India. Due to shortage of available seats in MBBS course in India many students try to take admission to study MBBS in abroad.
Some students try to take admission to study MBBS in China whereas some try to take admission in Kyrgyzstan, Kazakhstan etc. In previous years many Indian students went to study MBBS in Bangladesh, as well many pursued MBBS in Nepal. But Most important issue arises why student go abroad to study MBBS course?
Above question's answer is given by the Director of THE CAREER MAKERS, the company enrolling Indian students to study MBBS abroad. The Career Makers says , going abroad to study MBBS is not the mere reply. It is the career and future of students which is at stake when the student goes abroad to Study MBBS.
The Career Makers which was incorporated in the year 1998 has it's head office in Faridabad, Haryana. The Career Makers has various offices across India and it has offices in CHINA, Armenia and Kyrgyzstan and in Bangladesh also.
The Career Makers was established with keeping in mind that students should get most benefits and necessary requirements while they are studying abroad. These Coordinators are like local guardians to the students.
The Career Makers has enrolled above 8000 Indian students till date to study MBBS in China, to study MBBS in Armenia, To study MBBS in Kyrgyzstan, to Study MBBS in Bangladesh, to Study MBBS in Nepal etc. Out of these 8000 students approx... 5000 have passed the FMGE and now they are working in India as a licensed practicing doctor. 3000 students are still studying MBBS in abroad.
During past many years The Career Makers has managed to provide similar MBBS course syllabus abroad as it is in India. Even Many Foreign teachers who can speak Hindi and English both, of course teachers from India, Nepal and Bangladesh were hired to teach those students who were studying abroad and were enrolled by The Career Makers .
The Career Makers provided Indian food, cooked by Indian cooks, to all the students who are enrolled by The Career Makers to study MBBS abroad. The Career Makers have their own Offices in those countries where the students are enrolled by The Career Makers to Study MBBS. In each country they have exclusive Country Coordinators who looks after the students requirements. During entire course of study MBBS abroad, The Career Makers provides all assistance to the students
What Our Clients Say
Your Business Our Solution
Mrs. Angel Patel
STUDENT
I had a dream to become a doctor and study abroad for that..both my dreams are being fulfilled by TCM. They were very helpful and I had no difficulty to reach my destination , I am living my dream here.
Mr. Ronak prajapati
STUDENT
TCM have given us a beautiful exposure to the university In Kyrgyzstan. I am really enjoying the immaculate ambiance and friendly people here in the Kyrgyzstan.
Mrs. Nisha Dube
STUDENT
TCM consultants have given us a whole new exposure to studying abroad, otherwise in our city we had no clue we can go to study abroad. The best education consultants facilitated everything for us.
Mrs. Pooja Dave
STUDENT
I was not getting admission in my own country to study medicine so I approached TCM consultants .The TCM consultants told me about the universities in Philippines . I took no time to think again for i wanted to become a doctor.